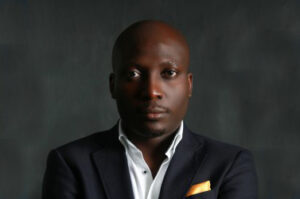 Kunlé Adeyemi is an architect, designer and development researcher whose works are internationally recognised for originality and innovation. He is the founder and principal of NLÉ – an architecture, design and urbanism practice founded in 2010, for innovating cities and communities. Adeyemi's notable works include 'Makoko Floating School', a groundbreaking, prototype floating structure once located in the lagoon heart of Lagos, Nigeria. Makoko Floating School has since evolved into 'Makoko Floating System (MFSTM)' – a simple, prefabricated, building solution for developments on water – now deployed in 5 countries across 3 continents. This acclaimed project is part of NLÉ's extensive body of work – the 'African Water Cities' – which explores the intersections of rapid urbanisation and climate change. In 2016 NLÉ was awarded the Silver Lion Prize for its second iteration of Makoko Floating School (MFS II – Waterfront Atlas) at the 15th International Architecture Exhibition – La Biennale di Venezia. Other NLÉ projects include A Prelude to The Shed in New York, USA, the Black Rhino Academy in Karatu, Tanzania and the Serpentine Summer House at the Royal Kensington Gardens in London, UK.
Before founding NLÉ, Adeyemi worked closely with Rem Koolhaas for about 9 years at the world renowned Office for Metropolitan Architecture (OMA), where he led the design and development of significant projects such as the Shenzhen Stock Exchange tower in China, the Qatar National Library and Qatar Foundation Headquarters in Doha, Samsung Museum of Art and the Prada Transformer in Seoul.
Alongside his professional practice with multiple prestigious awards, Adeyemi is an international speaker and thought leader. He is one of UNDP's African Influencers for Development (AI4D) Supergroup. He served as juror and nominator for distinguishing many industry talents including the RIBA international Prize, the AIA awards, Venice Biennale jury, and the Rolex Mentor and Protegé program. Adeyemi holds an honorary doctorate degree in Architecture from Hasselt University, Belgium, and a certificate in Real Estate Economics and Finance from the London School of Economics (LSE). He is an Adjunct Visiting Professor at the University of Lagos, Nigeria and has held several academic positions including the 2017 Aga Khan Design Critic in Architecture at Harvard University Graduate School of Design, an Adjunct Associate Professor at the Graduate School of Architecture, Planning and Preservation, Columbia University, New York, a visiting critic at Cornell University and Visiting Lecturer at Princeton University – where he leads academic research in architecture and urban solutions that are closer to societal, environmental and economic needs.
Academic work
Kunlé Adeyemi has held several academic positions in many reputable institutions. He was a Visiting Lecturer at Princeton University School of Architecture in 2019 and 2017 Aga Khan Design Critic in Architecture at Harvard University Graduate School of Design. Previously he was an Adjunct Associate Professor at Columbia Graduate School of Architecture, Planning and Preservation, 2015 Gensler Visiting Critic and 2014 Baird Distinguished Visiting Critic of Cornell University in Ithaca, New York, teaching and researching the program 'Water & The City'. In 2011 to 2012, he was the Callison Distinguished Visiting Lecturer of the University of Washington, teaching and researching 'The Modern City in the Age of Globalization' in Chandigarh – India's first planned modern city. His main area of academic interest is in developing cities of the global south. He has pursued and developed this issue via a number of research papers and study opportunities. They include a post-professional degree from Princeton University in the US, where with Peter Eisenman he investigated rapid urbanization and the role of market economies in developing cities of the global South, focusing on Lagos.
His hypothesis 'Urban Crawl' published in the Log Journal, is a critical exposé on architecture and urbanism in emerging megacities of the global south, which also unravels the complex urban conditions and operative mechanisms of such cities. His knowledge and opinions in this area are much sought after. Consequently, he has acted as a speaker and visiting critic at prestigious institutions such as the Guggenheim New York, Harvard University, MIT, the Cooper Union, the School of Oriental and African Studies, the Architectural Association in London, ETH in Zurich, Chandigarh College of Architecture in India and Delft Technical University in the Netherlands.
Towards Africa
All of Kunlé Adeyemi's experience, knowledge and background underpin his new architectural, creative design, and urbanism practice for Africa, developing regions and complex urban/rural environments globally. The overarching aim of the practice is to bridge critical gaps in infrastructure and urban development by creating coherent networks and global exchanges that work for people. The scope of the practice is not limited to architecture. He has also designed furniture, among many other things, and explores all social and cultural possibilities that contribute to urbanism.
Adeyemi was one of 5 members of the International Advisory Council for the World Design Capital 2014 being hosted by Cape Town, South Africa. This International design event is an opportunity to identify, nurture and promote projects that offer tangible evidence of how design can improve lives, within the uniquely South African and African context. In 2010, Adeyemi was the creative director for Lagos Photo – Nigeria's first contemporary public photography exhibition with the African Artist's Foundation. Lagos Photo is an urban intervention aimed to inspire and enlighten people about Lagos and other African cities, through photography in public spaces. His article 'The Architecture of Photography' was published in the Lagos Photo 2010 catalogue. Fundamental to his vision for developing cities is the proposed 4th Mainland Bridge & Master Plan in Lagos state – with OMA for Missing Link Motorway Development Company. A project, which has the potential to positively transform daily life for millions of people in one of the world's most populous and challenging cities.
"Whether a chair for charity in South Africa, a revolutionary rotating art space for Prada in Seoul or the visionary plan to eliminate traffic paralysis in Lagos with the 4th Mainland Bridge, in each project the essential needs of performance, value and identity – critical for success – are fundamentally the same for me. Although quantitatively different from place to place, the responsibility of achieving these needs at maximum, with minimum means, remains the same globally. I am constantly inspired by solutions we discover in everyday life in the world's developing cities" — Kunlé Adeyemi, 2010